During the upcoming electoral frenzy, it is essential for investors to adopt a systematic, unbiased strategy towards US politics and policy, which is the goal of this section.
This chart Illustrates that the foremost candidates for the 2024 presidency – Biden and Trump – would both be in their second term and of advanced age, potentially resulting in a more assertive foreign policy. A candidate in their first term, such as someone following Trump's path like Governor Ron DeSantis of Florida, would likely face constraints if financial market instabilities jeopardized their chances for re-election. However, as the chart indicates, the prospect of a candidate other than the two front-runners, like DeSantis, is dwindling. Consequently, the likelihood of having second-term presidents in 2024 is high.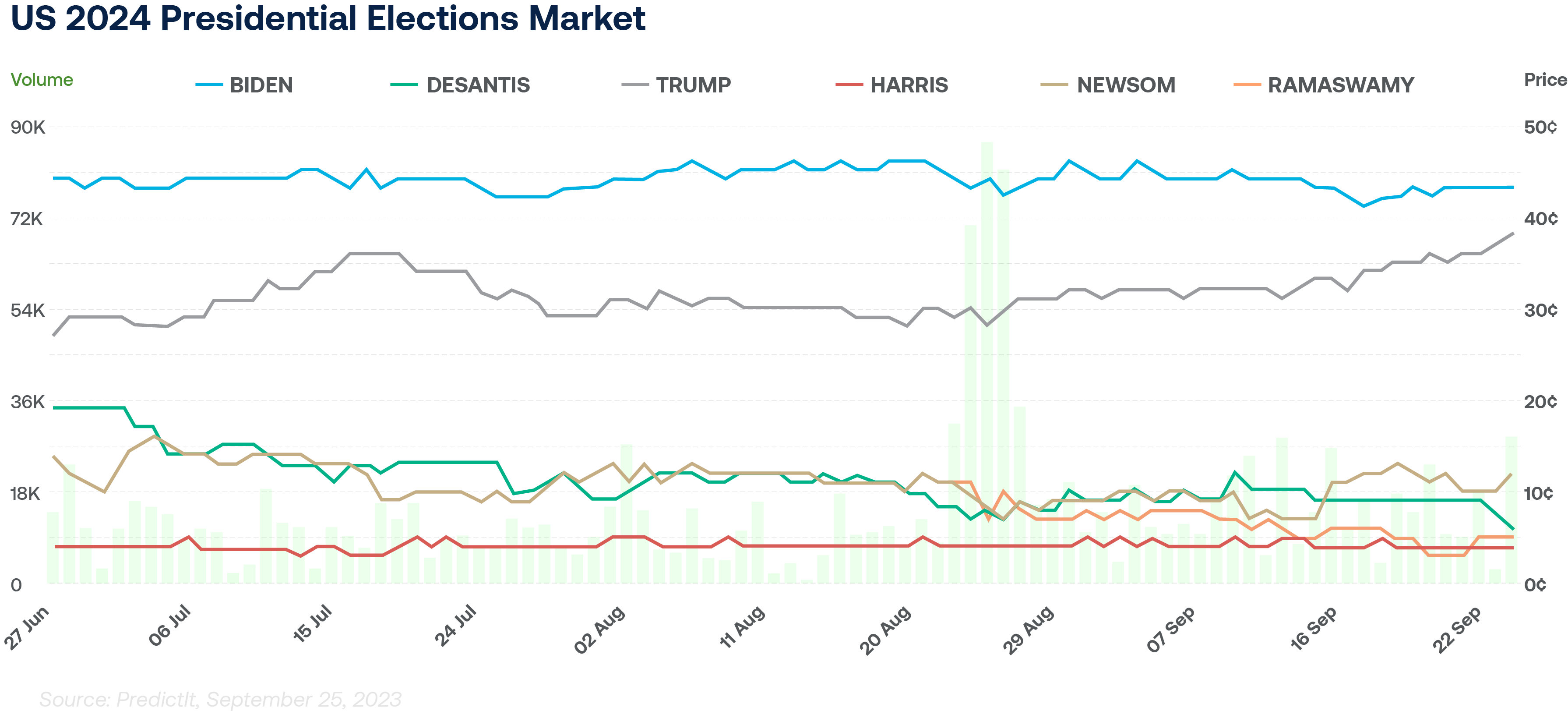 Biden's chances of re-election are somewhat uncertain compared to those of his party. This is not because he is less likely to secure a victory compared to another Democrat—historically, he has a better chance. Instead, uncertainties surrounding Biden's age and health are factors that need consideration. Vice President Kamala Harris, the most probable successor to Biden, would remain a strong contender provided no economic downturn occurs. Harris's perceived shortcomings are often exaggerated; she adequately represents the
party. A non-recessionary election with her as the candidate would likely center around societal topics, primarily women's rights, such as abortion. Trump is expected to maintain support among Republicans unless he faces incarceration. Incarcerating him before the election would be challenging but feasible. Of all the cases open against him, the third round of indictments in Washington DC seems most likely to result in a conviction. Ultimately, political influence, rather than legal or ethical considerations, will shape the outcome of Trump's case, as almost every post-election scenario under a Republican administration would likely lead to a pardon. While imprisonment does not legally hinder Trump, it would politically, in our view. In such a scenario, the Republican National Committee might opt for a younger, more appealing candidate to consolidate the party. DeSantis serves as a suitable alternative to Trump, with his alleged flaws, like those of Harris, often overstated. In our opinion, the Republicans' chances of victory would increase behind a fresh face, like Vivek Ramaswamy, particularly if the US economy avoids a recession. If a combination of strict monetary policies and sluggish international growth causes a downturn in the labor market, then it makes Republicans the favorites. This holds even with Trump being the most likely nominee, and more so if another candidate represents the party. In sum, it is important to remember that the most likely determinant of who will win a contest between Biden and Trump is the answer to the following question: Is the US in a recession by the middle of 2024? If the answer is yes, Trump is the most likely victor. If the answer is no, then Biden should prevail.
Ahmed Riesgo – Insigneo's Chief Investment Officer
Mr. Riesgo oversees all the company's research and investment functions. This includes investment strategy, devising and implementing the firm's global market views and asset allocation, communicating them to its clients and the public, and managing the firm's model portfolios. In addition, he is the Chairman of the Insigneo Investment Committee.